Digital Wireless License Plate Backup Camera System
It's guaranteed a digital wireless range for up to 70ft.
Features a license plate mount backup camera that no need to drill holes.
Get monitor quick installed by a cigarette lighter adaptor.
Install this camera can help you save money, and lives too.
SKU: VS762
Quick pairing and protect against interference.
Unlike other wireless backup camera that transmits on crowded analog 2.4GHz frequency, however, our wireless license plate backup camera system uses a digital wireless signal that quickly pairs exclusively to its own transmitter and receiver to protect against interference.
Digital wireless range for up to 70ft.
No need to run cables from monitor to camera, it's guaranteed wireless range for up to 70ft, which is enough most vehicles.
This wireless backup camera using a CCD lens provides a resolution of 600 TV lines, which means you can get great image quality.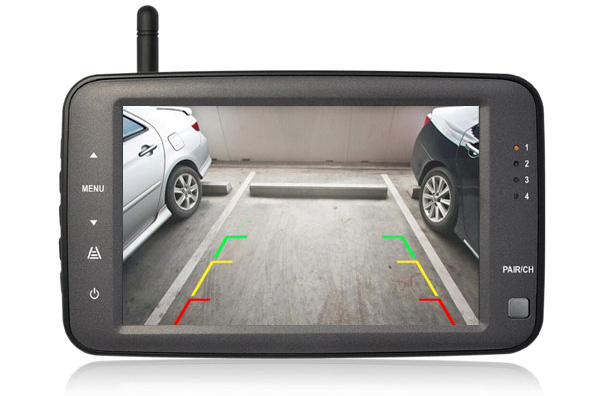 Easy license plate mount & No need to drill holes & Waterproof .
The backup camera is made from highly rugged and heavy-duty material, which has been tested in the harshest of conditions to ensure that it provides the best to its users. It is completely IP68 rating weatherproof, and can withstand water, dust and occasional rock-impacts. Designing and building a backup camera with the right material is very important, because of the extreme weather conditions it would be subjected to, being on the vehicle's exterior.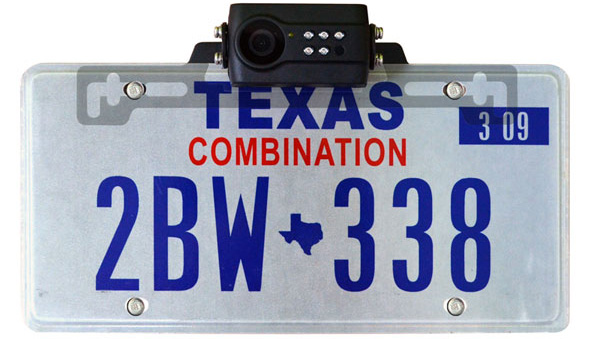 Crystal clear LCD monitor.
The 4.3 inch LCD monitor features a resolution of 800 X 480 allowing you to experience the best video quality and is very convenient because its thin structure. You can have it stand on the dash or hang it on the windshield, which works fine both ways. The wireless rear view monitor comes with a cigarette lighter adaptor, just put it into your vehicle cigarette lighter port to get monitor powered up instantly.
Great night vision with 5 infrared lights.
Aided by 5 infrared LEDs, our backup camera can display the scenery behind your vehicle, even in pitch darkness. All objects within 35ft will be picked up and visible on the monitor. Night vision is important, because there are times that you might have to backup at night. And you cannot guarantee there will be adequate lighting.
Our camera offers you a 120-degree view of your vehicle's rear. This allows you to see much more, making your driving much safer.
Why a wireless backup camera system ?
Ease of Install.
Wireless cameras are much easier to install. There is no need to run wires from the vehicle's rear to the front. Pairing of our monitor and camera is also easy and fast.
No professional installation required.
Most people will require a professional installation of their wired backup camera system, while a wireless system is so easy to install, that you will hardly need professional installation. This helps you save cost and time.
Install a backup camera system can help you save money and even lives.
The backup camera system serves as an excellent parking assist and makes it much easier to back up even in the tight spots. however, one of its most effective applications is in reducing blind spots, especially for long vehicles. sometimes, it can be hard to see vehicles right behind you through the rear view mirror and that's where this camera comes in handy. The enhanced rear view is also useful on busy city streets or on the freeway. drivers can feel much safer changing lanes with this camera to show them what the rear looks like.
Wireless Camera Specification:
Image sensor :CCD
TV line :600TV lines
TV System :PAL/NTSC
Waterproof rating :IP68
Condition :New
Min illumination :0Lux
Viewing angle :120°
Power voltage :DC12V-24V
Operation Temp. :-20℃~+70℃
White Balance :Auto
Wireless Monitor Specification:
Monitor size :4.3 inch
Resolution :800 X 480
Contrast :16:9
TV System :PAL/NTSC
Monitor weight :500g
Video input : 1-4 channels
Power  :DC12V-24V
In The Box
4.3 inch wireless LCD color monitor
wireless license plate backup camera
cigarette lighter adaptor
installation kit
Frequently Asked Questions:
1. How to wire this wireless license plate backup camera system?
Very easy for wiring. The wireless rear view monitor plug into cigarette lighter for a quick install. Backup camera mounts onto the rear license plate frame with existing screws and red wire of camera goes to 12V/24V power source(usually reverse lights), black wire for ground.
2. what does a digital wireless camera system mean ?
The wireless signal is specific to its transmitter and receiver, that means it's protected against interference.
3. What is the wireless range ?
It offers a wireless range up to 20 meters.
4. Is this wireless license plate camera waterproof ?
Yes, it is completely waterproof with a IP68 rating.
5. Can the camera be adjustable to see a trailer hitch ?
Yes, this license plate backup camera can be adjustable vertically.
6. Can I add a second camera to this system for additional views ?
Yes, you can add up to 4 cameras and USD99 for each additional camera.
7. Does it have parking line(guide line) ?
You can press the parking line button on the left of monitor to enable the parking line.
8. Can I run this rear view camera system constantly on my vehicle ?
Yes, if you want the camera to always be on, you can connect it to a constant 12V/24V power source such as accessory socket (cigarette lighter) that is on all the time, or if you only want it when you reverse you can connect it to the reverse taillights.
9. Do you offer other types of backup camera systems ?
Yes, click here to view all our wired and wireless backup camera systems.
| | |
| --- | --- |
| Weight | 1.5 kg |
| Shipping | Free Economic Shipping, Fast Express Service |
---