Digital Wireless Backup Camera System
Plug and Play system is fast and easy to setup.
It's guaranteed connection for up to 70ft.
Modern & slim LCD monitor delivers crystal clear images.
Heavy-duty camera designed for maximum durability.
Grid lines can be switched on or off with 1 press of a button.
SKU: VS736
Plug and Play System with Auto Pair.
Our digital wireless backup camera system is designed to be quickly and easily installed on large vehicles, like RV and truck. The monitor installs in the dash or windshield with suction mount, using the cigarette lighter socket as a power source. The camera installs in your vehicle's rear, its red wire connects to a reverse-light wire, while the black cable attaches to the ground wire. The monitor and the camera are then automatically paired to work together, and that's all.


Heavy Duty Backup Camera.
The CCD backup camera is encased in metal for heavy-duty service and maximum durability. It will resist storm, rain, and occasional hits from rocks. The camera has a 120 degree viewing angle, an integrated video transmitter. It offers an automatic night-vision capability up to 60 ft., and is very easy to mount.
Our 5-inch monitor is a slim LCD system, with a digital wireless receiver module. It displays crystal-clear images in full color, and with a HD resolution of 800 x 480 pixels. This rear view monitor can be paired with up to 4 cameras, and also offers the ability to toggle between 2 cameras with a button-press. It can be powered using the included cigarette lighter adapter, or it can also be hard-wired.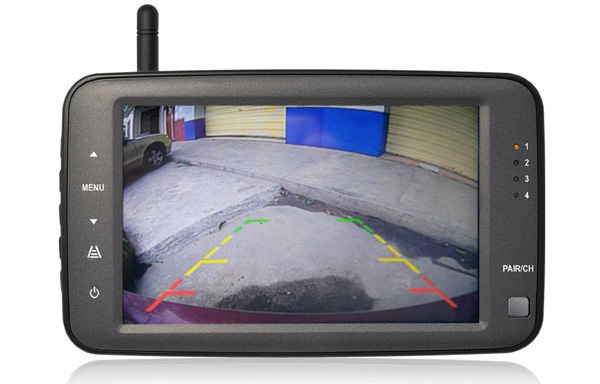 The package includes a mount for the monitor, allowing it to be mounted either on the dash, or on the windshield. This mount features a powerful suction cup, which keeps the 6 x 3.5 inch monitor tightly in place, and at all times.
A button-click allows you to either switch the distance grid-lines on or off. Grid lines can be quite helpful when backing up, as they greatly improve your backup safety, by showing you just how close you are to surrounding objects.
Great night vision with 12 infrared lights.
This wireless rear view camera features 12 infrared LED lights to offer great night vision in the dark night.
Our camera offers you a 120-degree view of your vehicle's rear. This allows you to see much more, making your driving much safer.
Wireless Backup Camera Specification:
Image sensor :CCD
TV line :600TV lines
TV System :PAL/NTSC
Waterproof rating :IP68
Lens :2.5mm
Min illumination :0Lux (LED ON)
IR led :12pcs
Viewing angle :120°
Power voltage :DC12V-24V
Operation Temp. :-20℃~+70℃
White Balance :Auto
Wireless Monitor Specification:
Monitor size :5 inch
Resolution :800 X 3 (RGB) X 480
Contrast :16:9
TV System :PAL/NTSC
Monitor weight :500g
Video input : 4 channels
Power  :DC12V-24V
In The Box
5 inch wireless LCD color monitor
wireless Backup Camera
cigarette lighter adaptor
a powerful suction cup
installation kit
manual
Frequently Asked Questions:
1. Can I add a second wireless camera to this system?
Yes, you can add up to 4 cameras.
2. What is the wireless range ?
It offers a wireless range up to 20 meters.
3. Is this wireless camera waterproof ?
Yes, it is completely waterproof with a IP68 rating.
4. Can I run this wireless backup camera system constantly on my vehicle ?
Yes, if you want the camera to always be on, you can connect it to a constant 12V/24V power source such as accessory socket (cigarette lighter)that is on all the time, or if you only want it when you reverse you can connect it to the reverse taillights.
5. I prefer a license plate backup camera, do you have it ?
Yes, click here to view all our wireless backup camera systems.
| | |
| --- | --- |
| Weight | 1.6 kg |
| Shipping | Free Economic Shipping, Fast Express Service |
---