Heavy Duty Backup Camera System
Crystal clear 7-inch monitor displays every little detail.
CCD camera lens provides maximum image quality.
18 infrared LEDs provide up to 50 ft. of night vision.
Automatically switches between PAL and NTSC.
Backup camera is powered by monitor to avoid voltage fluctuations.
SKU: VS803M
Crystal 7-Inch Rear View Monitor.
Our heavy duty backup camera system features a 7-inch TFT LCD monitor, with a crystal-clear display and an 800 x 480 pixel resolution. The monitor is made of high quality rubber and features a removable sunshade. This monitor has a 500:1 contrast ratio. It measures 120mm in height, 180mm in length, and 20mm in thickness.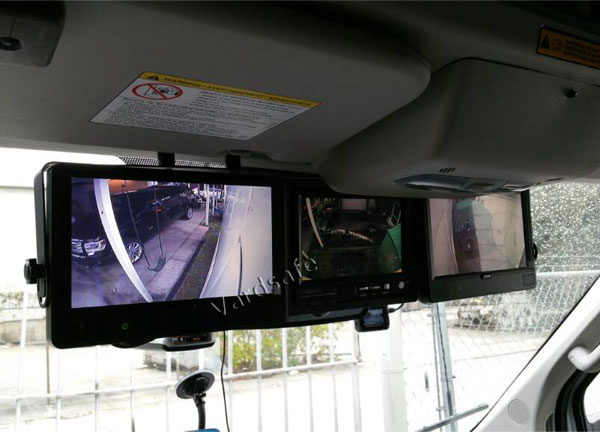 The backup camera is fitted with a CCD lens in order to produce the highest quality of video footages possible. CCD lenses are superior to cheaper CMOS lenses. They deliver crisper images and a much better color balance. With this high quality CCD camera, and our crispy-clear LED monitor, you can be sure to pick up every little bit of information.
Automatic PAL / NTSC Switching.
The monitor switches automatically between PAL and NTSC formats. PAL is a color encoding system quite popular in Europe and other parts of the world. NTSC on the other hand, is used mainly in the USA and Canada. Our system adapts automatically to both.
Unlike most other backup camera systems, this system's camera is powered directly from the monitor. Such a system protects the camera from the voltage fluctuations of reverse light wirings. The benefit to you of course, is a long lasting camera.
With an IP68 rating, the rear view camera is totally resistant to water and dust, including high pressure water and steam. The IP or Ingress Protection rating, is an international standard for testing product quality and general protection from environmental influences. IP68 is one of the highest possible rating for any electronic product.
The rear camera additionally includes 18 infrared LEDs to illuminate the darkness and provide night vision capability up to 50 ft. This enables you to use the system at any time of the day or night.
Selectable Camera-Cable Length.
The cable that runs from the monitor to the camera is available in 3 lengths. You can select between a 10, 15 and 20-meter (33, 49 and 66-ft.) long cable. This option enables you to choose the perfect cable length for your vehicle.
This camera offers a 120-degree view of your vehicle's rear. This allows you to see much more, making your driving much safer.
Backup Camera Specification:
Image sensor :CCD
Resolution :756(H) X 504(V)
TV line :600TV lines
TV System :PAL/NTSC
Waterproof rating :IP68
Min illumination :0Lux (LED ON)
IR led :18pcs
Viewing angle :120°
Power voltage :DC12V
Operation Temp. :-20℃~+70℃
White Balance :Auto
Rear View Monitor Specification:
Monitor size :7 inch
Type :stand alone
Resolution :800 X 3 (RGB) X 480
Contrast :16:9
TV System :PAL/NTSC
Monitor weight :800g
Video input : 2 channels
Power  :DC12V-24V
In The Box
Color CCD camera with night vision capability
7-inch digital LED monitor with mount
20 meters video extension cable(please leave a note if you need 15m or 10m cable)
Remote control
Installation kit – including power cable, screws, RCA adapter and camera cable
Frequently Asked Questions:
1. Can I add a second camera to this system?
Yes, you can add another cameras.
2. Can I run this backup camera system constantly on my vehicle ?
Yes, if you want the camera to always be on, you can connect it to a constant 12V/24V power source such as accessory socket (cigarette lighter)that is on all the time, or if you only want it when you reverse you can connect it to the reverse taillights.
3. Do you supply other types of wired systems?
Yes, click here to view all our wired rear view camera systems.
| | |
| --- | --- |
| Weight | 1.9 kg |
| Shipping | Free Economic Shipping, Fast Express Service |
---