SKU: VS609-WiFi
View camera pictures on your smartphone.
Our WiFi backup camera offers you the flexibility and freedom of quickly mounting a backup camera on your vehicle and watching the video stream with your smartphone. It works great with trailers, and also features night-vision capability, up to 30 ft.
Part of our WiFi backup camera system is a freely downloadable App, which lets you connect to the camera, after installing it in your smartphone. The Apple App Store and Google Play Store addresses are included in the package. You should note that you do not need a pre-existing WiFi or any connection. All you need is to switch on the camera and a WiFi network starting with " Sonix— " will appear in the list of WiFi networks on your smartphone.
Our WiFi camera system produces a strong wireless signal, which makes it able to connect with devices up to 50 ft. away, and even farther.
Its strong magnetic base makes it easily mountable everywhere, without requiring any hardware. The magnet is strong enough to hold the camera on your vehicle. It should be noted that notwithstanding the strong magnet, this WiFi backup camera was originally designed as a temporary solution, for situations which include hitching, towing an RV, backing up a trailer, and so on.
In addition to having a rechargeable battery, our WiFi camera can also be run with a built-in battery. This opens up many possibilities, and makes the system much more versatile and adaptable to different situations.
Also integrated in our camera, is a rechargeable battery. This battery enables up to 5 hours of steady camera use on a full charge. A USB cable is included in the package, with which the battery can be charged.
Important note :
1. Due to its a battery operated camera, we don't recommend to run it constantly.
2. The camera must be turn on / off manually, which means you have to get out of your vehicle to turn on the camera. If you can't accept this drawback, please buy our other regular wireless backup camera system.
WiFi backup Camera dimension(mm):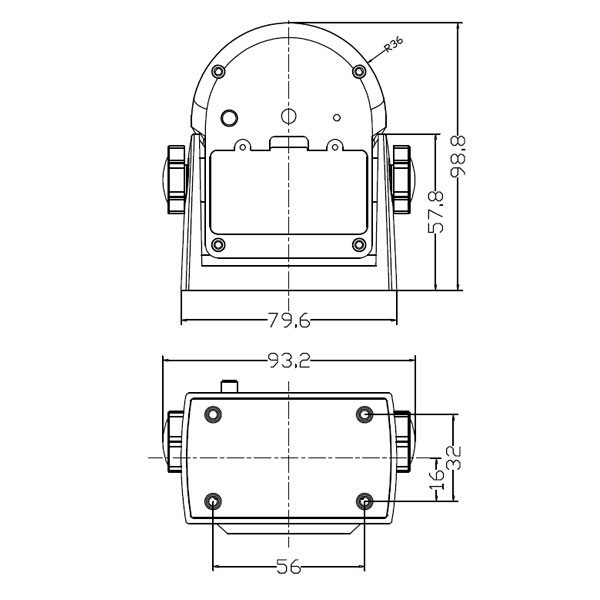 Camera Specification:
Image sensor :CCD
TV line :480TV lines
TV System :PAL/NTSC
Waterproof rating :IP68
Lens :2.5mm
Min illumination :0Lux (LED ON)
IR led :6pcs
Viewing angle :120°
Power voltage :DC12V
Operation Temp. :-20℃~+70℃
White Balance :Auto
In The Box
WiFi magnetic backup camera
installation kit
Frequently Asked Questions:
1. Can this WiFi backup camera system install on my vehicle ?
The wireless magnetic battery operated backup camera system is perfect for trailer hitching and also a good solution for people with more than one vehicles and camera can be easily switched between cars.
2. What is the wireless range ?
It offers a WiFi range up to 15 meters.
3. Is this wireless camera waterproof ?
Yes, it is completely waterproof with a IP68 rating.
4. How long does the battery last  ?
About 4 to 6 hours on a full charge.
5. Where can I download the APP  ?
You can scan QR code on manual or search "safetyeye" in APP store to download this free APP.
5. Is it compatible with my phone  ?
Supports IOS and Android devices.
| | |
| --- | --- |
| Weight | 0.8 kg |
| Shipping | Free Economic Shipping, Fast Express Service |
---