Backup Camera System with Extended Roof Camera
Extended roof design provides a bird's-eye view for optimal vision.
Ball-joint design provides panning and tilting movements of the camera.
120 degree-wide viewing angle provides more imaging detail and improves security.
100% Waterproof with an IP68 rating to withstand all weather conditions.
SKU: VS807M
Backup Camera System with Extended Roof Design.
By having a frame that extends behind the vehicle, our camera can tilt slightly downwards, providing the driver with a bird's-eye view of the area behind the vehicle. This ability to see with a bird's-eye view, offers you the capability of also monitoring the vehicle's immediate surroundings. This way, you can keep an eye on attachments like tow hitches. This rear view camera is built using a heavy-duty aluminum alloy, which makes it durable, dust-proof, waterproof. There is no better type of backup camera for your cargo van or bus, than an extended roof backup camera. Our camera is made from high quality components, and will serve you for a long time to come.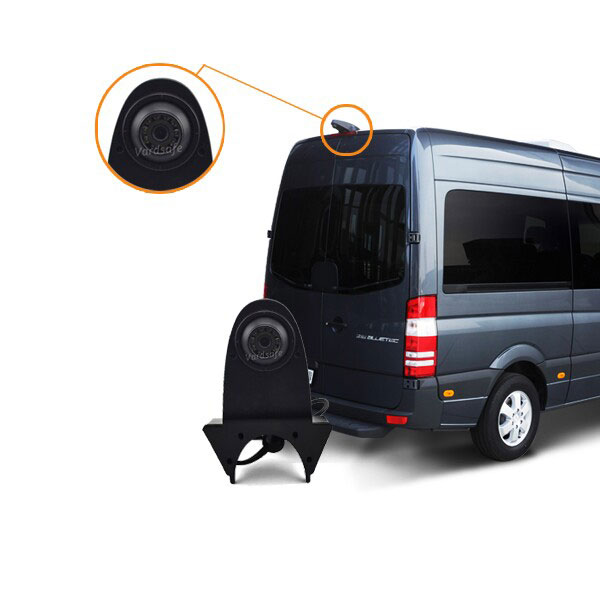 Our rear view camera utilizes a ball-joint system, which allows a wide degree of free movement for the lens. You can pan it left to right, or tilt it forwards and backwards, to get the exact view that you require. This flexibility of our extended roof backup camera, allows you to either focus on a hitch, the road behind you, or to turn the camera slightly sideways, and monitor either the right or left lane.
120 Degree Wide Viewing Angle.
With a 120-degree viewing angle, our camera picks up more of the scene behind you. This increase of information improves your driving safety during backups, and provides you with more data to reach better driving decisions.
Our extended roof backup camera is fitted with 9 infrared LEDs, which illuminate the night to provide night vision when necessary. This camera can pick up and display objects up to 30 ft. away in pitch darkness. Night vision is an important safety feature that can prove quite valuable in unforeseen circumstances.
This rear view camera features an IP68 waterproof rating, which means it is completely waterproof.
TFT LCD Rear View Monitor with 2 Brackets.
The 7 inch LCD monitor offers 800X480 resolution for great video quality. It also features with 2 installation brackets for your convenience.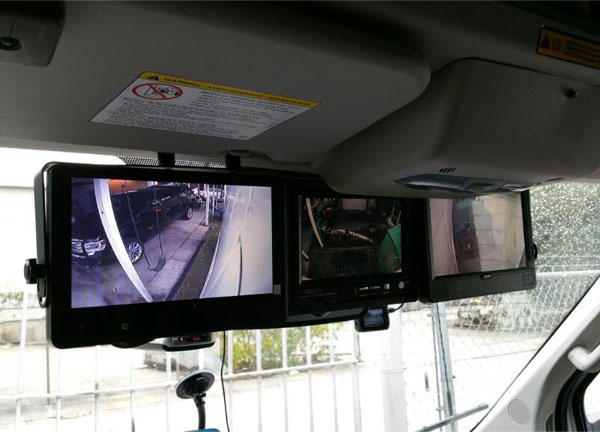 The power source of backup camera is offered by monitor instead of vehicle.
This is a great method to protect the camera from voltage fluctuation caused by a vehicle and is also good for ease of install.
Backup Camera Specification:
Image sensor :CCD
Resolution :756(H) X 504(V)
TV line :600TV lines
TV System :PAL/NTSC
Waterproof rating :IP68
Min illumination :0Lux (LED ON)
IR led :9pcs
Viewing angle :120°
Power voltage :DC12V
Operation Temp. :-20℃~+70℃
White Balance :Auto
Rear View Monitor Specification:
Monitor size :7 inch
Type :stand alone
Resolution :800 X 3 (RGB) X 480
Contrast :16:9
TV System :PAL/NTSC
Monitor weight :800g
Video input : 2 channels
Power  :DC12V-24V
In The Box
7 inch LCD color monitor
extended roof backup camera
10 meters video extension cable
required accessories
kit for installation
Frequently Asked Questions:
1. Can I add a second wireless camera to this system?
Yes, you can add another cameras.
2. Can I run this wireless backup camera system constantly on my vehicle ?
Yes, if you want the camera to always be on, you can connect it to a constant 12V/24V power source such as accessory socket (cigarette lighter)that is on all the time, or if you only want it when you reverse you can connect it to the reverse taillights.
3. Do you offers other types of backup camera system ?
yes, click here to view our all backup camera systems.
| | |
| --- | --- |
| Weight | 1.9 kg |
| Shipping | Free Economic Shipping, Fast Express Service |
---