Digital Wireless License Plate Rear View Camera Kit
Wireless backup camera installs easily, no need to drill holes.
Sleek design prevents camera from blocking license plate.
Instant pairing connects camera and monitor for a fast setup.
Night vision capability equips you for day- and night-time driving.
SKU: VS764
Quick & Easy Install with Slipped-on Behind the License Plate.
The wireless backup camera is designed to be easily slipped-on behind the license plate. It can then be fastened using the license plate's pre-existing screw. This makes the drilling of holes and the mounting of brackets unnecessary. This camera is made using very rugged metal for strength, and it is completely waterproof. It also comes with an integrated wireless transmitter, making the whole installation a snap.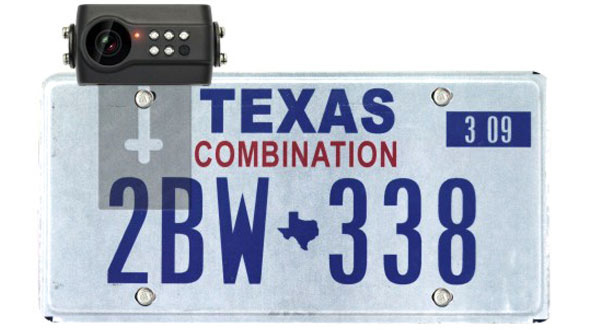 Our wireless rear view camera was also designed to be inconspicuous. To be there without drawing any attention. It keeps out of the way, allowing your license plate to be completely visible. And yet, it picks up every little bit of information with its 120-degree viewing angle. This provides you with a better rear-view, and enables you to make better driving decisions.
this 4.3 inch wireless rear view monitor features a 800X480 resolution to display great video quality. You can have it stand on the dash or hang it on the windshield, which works fine both ways, just put it into your vehicle cigarette lighter port to turn on monitor instantly.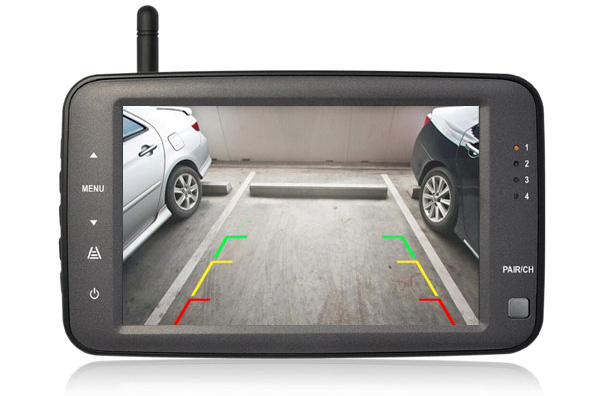 Instant Pairing with its Own Wireless Backup Camera and Monitor.
After the camera has been slipped-onto the license plate, and the monitor has been mounted on either the dash or windshield. The system will be paired automatically after you turn on the camera and monitor. What you then get, is a flawlessly working wireless system.
Wireless Range up to 70 ft.
Our wireless license plate rear view camera kit can function at distances of up to 70 ft. This is because our system is digital. Digital signals usually travel farther and also retain their information, better than analog signals.
With the inclusion of infrared LEDs in the camera, our system provides you with night vision capability. The 5 LEDs provide enough illumination at night, to view up to 25 ft. of your surroundings. This puts you in a position to use this backup camera system whenever necessary.
Wireless Rear View Camera Specification:
Image sensor :CCD
TV line :600TV lines
TV System :PAL/NTSC
Waterproof rating :IP68
Min illumination :0Lux (LED ON)
IR led :5pcs
Viewing angle :120°
Power voltage :DC12V-24V
Operation Temp. :-20℃~+70℃
White Balance :Auto
Wireless Monitor Specification:
Monitor size :4.3 inch
Resolution :800 X 3 (RGB) X 480
Contrast :16:9
TV System :PAL/NTSC
Monitor weight :500g
Video input : 1-4 channels
Power  :DC12V-24V
In The Box
4.3 inch wireless LCD color monitor
wireless license plate backup camera
cigarette lighter adaptor
installation kit
Frequently Asked Questions:
1. How to wire this wireless license plate rear view camera kit?
Very easy for wiring. The wireless rear view monitor plug into cigarette lighter for a quick install. Backup camera mounts onto the rear license plate frame with existing screws and red wire of camera goes to 12V/24V power source(usually reverse lights), black wire for ground.
2. what does a digital wireless camera system mean ?
The wireless signal is specific to its transmitter and receiver, that means it's protected against interference.
3. Is this wireless license plate camera waterproof ?
Yes, it is completely waterproof with a IP68 rating.
4. Can the camera be adjustable to see a trailer hitch ?
Yes, this license plate backup camera can be adjustable vertically.
5. Can I run this rear view camera system constantly on my vehicle ?
Yes, if you want the camera to always be on, you can connect it to a constant 12V/24V power source that is on all the time, or if you only want it when you reverse you can connect it to the reverse taillights.
6. Do you offer the other types of wireless backup camera systems?
Yes, click here to view our more best wireless backup camera kits.
| | |
| --- | --- |
| Weight | 1.5 kg |
| Shipping | Free Economic Shipping, Fast Express Service |
---