5 Inch Wireless Backup Camera System With 2 Cameras
2-camera system allows simultaneous monitoring of hitch and traffic, perfect for trailers.
Automatic pairing of monitor and cameras makes installation a snap.
Get monitor quick installed by a cigarette lighter adaptor.
100% Waterproof with an IP68 rating to withstand all weather conditions.
Install this camera can help you save money,and lives too.
SKU: VS796T
Backup Camera System Perfect for 5th Wheels and Trailers.
Whether it's a 5th wheel, a goose-neck, a horse trailer or an RV on a trailer hitch, a backup camera system will greatly improve your driving safety. With our 2-camera system, you can have one camera installed in the truck's rear, enabling you to monitor the hitch. The second camera can then be installed in the trailer's rear, enabling you to monitor oncoming traffic when on the road, and to also safely backup the vehicle. Each of the camera can transmit its signal up to 120ft.

Mirror / Normal Imaging Switchable.
Our cameras each have a mirror-switch button on their backside. This allows you to toggle their transmissions between normal and mirrored images. Such a feature makes it possible to use this system either as a rear-view camera system, as side-view cameras, as a dashboard camera system, or in any combination of your choice.
Fast & Automatic Pairing.
Our 5 inch wireless backup camera system with 2 cameras, is designed to be a Plug-and-Play system. Simply install the 2 cameras, install the monitor, switch them on, and you have a working video system. Pairing makes the monitor accept signals only from the 2 cameras, just as is done with bluetooth pairing. With our system, the devices are already paired, so there's nothing else for you to do.
Digital LCD Color Monitor.
At the heart of this system is a 5 inch TFT LCD color monitor, with a powerful suction mount for dash or windshield attachment. In addition to its high quality display, this monitor also offers other important features like pairing with multiple cameras, color, brightness and volume control.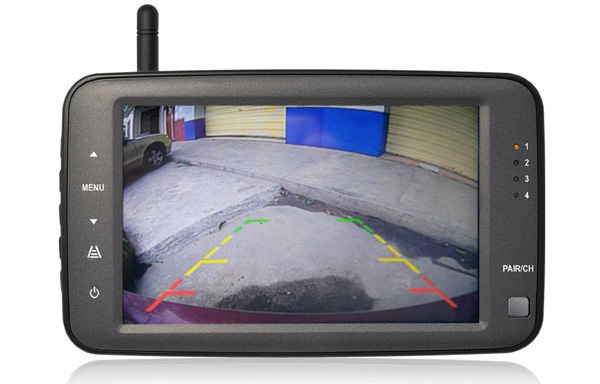 Heavy duty & waterproof .
The backup camera is made from highly rugged and heavy-duty material, which has been tested in the harshest of conditions to ensure that it provides the best to its users. It is completely IP68 rating weatherproof, and can withstand water, dust and occasional rock-impacts. Designing and building a backup camera with the right material is very important, because of the extreme weather conditions it would be subjected to, being on the vehicle's exterior.
Each of the 2 backup cameras features 12 infrared LEDs, which provide enough nighttime illumination to deliver up to 60 ft. (18 meters) of night vision capability. This opens up more possibilities for you, because you can now backup and do other things whenever necessary.
Our camera offers you a 120-degree view of your vehicle's rear. This allows you to see much more, making your driving much safer.
Camera Specification:
Image sensor :CCD
TV line :600TV lines
TV System :PAL/NTSC
Waterproof rating :IP68
Min illumination :0Lux (LED ON)
IR led :12pcs
Viewing angle :120°
Power voltage :DC12V-24V
Operation Temp. :-20℃~+70℃
White Balance :Auto
Monitor Specification:
Monitor size :5 inch
Resolution :800 X 3 (RGB) X 480
Contrast :16:9
TV System :PAL/NTSC
Monitor weight :500g
Video input : 4 channels
Power  :DC12V-24V
In The Box
5 inch wireless LCD color monitor
2 wireless backup cameras
cigarette lighter adaptor
installation kit
Frequently Asked Questions:
1. Can this wireless backup camera system install on my vehicle ?
The digital wireless reversing camera system is perfect for RV, truck, trailer, fifth wheel, motorhome and other commercial vehicles.
2. What is the wireless range ?
It offers a wireless range up to 120ft.
3. What does a digital wireless camera system mean ?
The wireless signal is specific to its transmitter and receiver, that means it's protected against interference.
4. Can I add a third camera to this system for additional views ?
Yes, you can add up to 4 cameras and USD99 for each additional camera.
5. Does it have grid line(guide line) ?
You can press the grid line button on the left of monitor to enable the line.
6. Can I run this wireless backup camera system constantly on my vehicle ?
Yes, if you want the camera to always be on, you can connect it to a constant 12V/24V power source such as accessory socket (cigarette lighter)that is on all the time, or if you only want it when you reverse you can connect it to the reverse taillights.
| | |
| --- | --- |
| Weight | 2.5 kg |
| Shipping | Free Economic Shipping, Fast Express Service |
---