Vehicle Arm Bracket Side View / Rear View Camera
Designed to easily fit most vehicle mirror-arms.
Can be perfectly used as either a side- or a rear-view camera.
Enables you to change lanes without turning your head.
Mirror imaging capability offers more opportunities.
SKU: VS472
Fast & Easy Installation.
The major feature of this vehicle arm bracket side view camera is its installation mechanism. The brackets are designed to be easily installed on a side-view mirror's arm. The 2 parts are connected and tightened together, with the arm locked-in between the brackets. The camera is then attached to the brackets, and the cable run into the vehicle, completing the installation. Click here if you want to add a monitor together.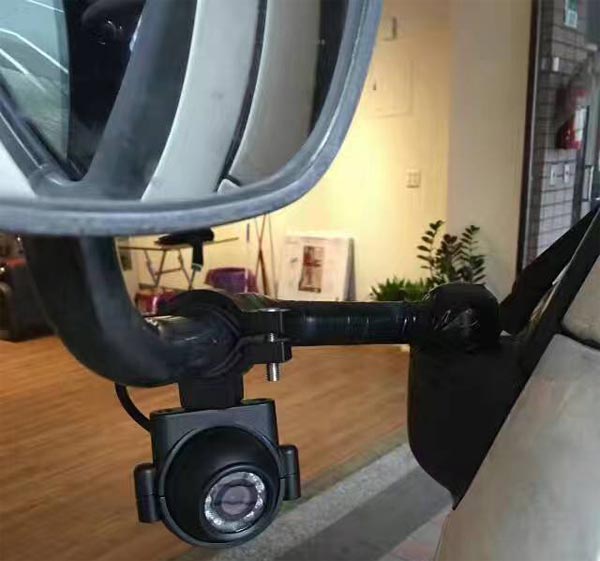 Side-View & Rear-View Compatible.
The vehicle arm bracket side view camera can be positioned and tightened in any direction. This allows the camera to be multi-functional. You could turn it backwards to function as a backup camera, or you could turn it sideways to function as a side-view camera.
Change Lanes Comfortably.
When connected as a side view camera, this camera offers you the opportunity of checking the road behind you, without having to turn your head and look sideways at a rear-view mirror. This improves your concentration on the road, and your overall safety, as well. With the monitor right in front of you and providing you with a clear view of the road behind you, you can now more easily and safely change lanes.
This camera is made with a 2.5mm CCD lens. CCD produces much better images and colors than its CMOS counterpart. The mirror image camera also features a wide 120-degree viewing angle, allowing you to view every little detail.
Night Vision and Waterproof Capability.
There are 10 infrared LEDs, which lighten up dark nights with infrared rays, enabling the camera to display clear images. with an IP68 rating, make it 100% waterproof camera.
If you drive a truck, a bus, RV or any other vehicle with side-mirror arms, then you can easily install our arm bracket camera on it. Designed to be quick and easy to install, our arm bracket camera can be installed to either function as a side-view camera, a rear-view camera, or it can also be positioned in any other angle of your choice. It offers you opportunities that no other camera or system can offer. Feel free to check it out today, and convince yourself of its advantages. If you should have any questions, please do not hesitate to contact us.
Specification:
Image sensor :CCD
Resolution :756(H) X 504(V)
TV line :480TV lines
TV System :PAL/NTSC
Waterproof rating :IP68
Min illumination :0Lux (LED ON)
IR led :10pcs
Viewing angle :120°
Power voltage :DC12V
Operation Temp. :-20℃~+70℃
White Balance :Auto
In The Box
vehicle arm bracket camera
Mirror-arm brackets and all required accessories.
10 meters video extension cable
manual
Frequently Asked Questions:
1. Is this camera mirror image or normal image ?
It is mirror image camera for side view and rear view.
2. Do you offers other types of backup camera system ?
yes, click here to view our all backup camera systems.
| | |
| --- | --- |
| Weight | 0.6 kg |
| Shipping | Free Economic Shipping, Fast Express Service |
---